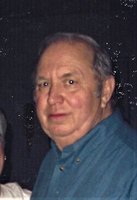 Chester R. "Chet" Tenhagen
Chester R. "Chet" Tenhagen, age 80 of Walden, NY, passed away on February 14, 2019 peacefully at home with his family by his side. The son of the late Theron and Gertrude McMurn Tenhagen, he was born on July 11, 1938 in Newburgh, NY. Chet leaves behind his loving wife, Barbara Janeiro Tenhagen at home.
Chet proudly served his country in the Army during the Vietnam Era. He worked as a Firefighter for the City of Newburgh Fire Department. He was also a Life Member of the Col. Bradley Hose Co. of the Walden Fire District.
In addition to his wife, survivors include his son, Raymond Tenhagen and his wife, Theresa, of Cornwall-on-Hudson, NY; daughters, Darlene Tenhagen of Walden, NY and Christine Stidham and her husband, James, of Alabama; brothers, James Tenhagen of Marlboro, NY and William Tenhagen of Florida; sister, Betty Monroe of Herkimer, NY; cousin, Barbara Robson of Maine; 9 grandchildren, 12 great-grandchildren, nieces & nephews. Chet was predeceased by his brother, Teddy Tenhagen.
A visitation will be held from 6-8pm on Monday, February 18th at the Gridley-Horan Funeral Home, 39 Orchard St. Walden, NY 12586. Services will be held at 8pm at the funeral home. Cremation will follow. Burial of ashes will be in the Woodlawn Cemetery in New Windsor, NY at a later date.
Memorial contributions may be made in Chet's name to the American Heart Association.